OIL PAINTINGS:  Full-size or miniature in scale, all Rhys oils are distinguished by their richly-textured surface and by the complex layering of color and pattern, all to enhance the image created thereon.  Most often, the artist spends quite a bit of time developing the surface of the canvas or copper sheet prior to beginning creation of an image on that surface.
PROCESS:  Some canvases have the addition of tissue pasted on with acrylic gel medium in successive layers, providing a variable texture for the paint added later–some areas subtle, some with a prominent pattern. Figure 1 shows a canvas prepped with tissue paper, then a color ground.
Whether tissue is added or not, all have a color ground applied [Figure 2] in layers and is left to dry fully.  [Figure 3]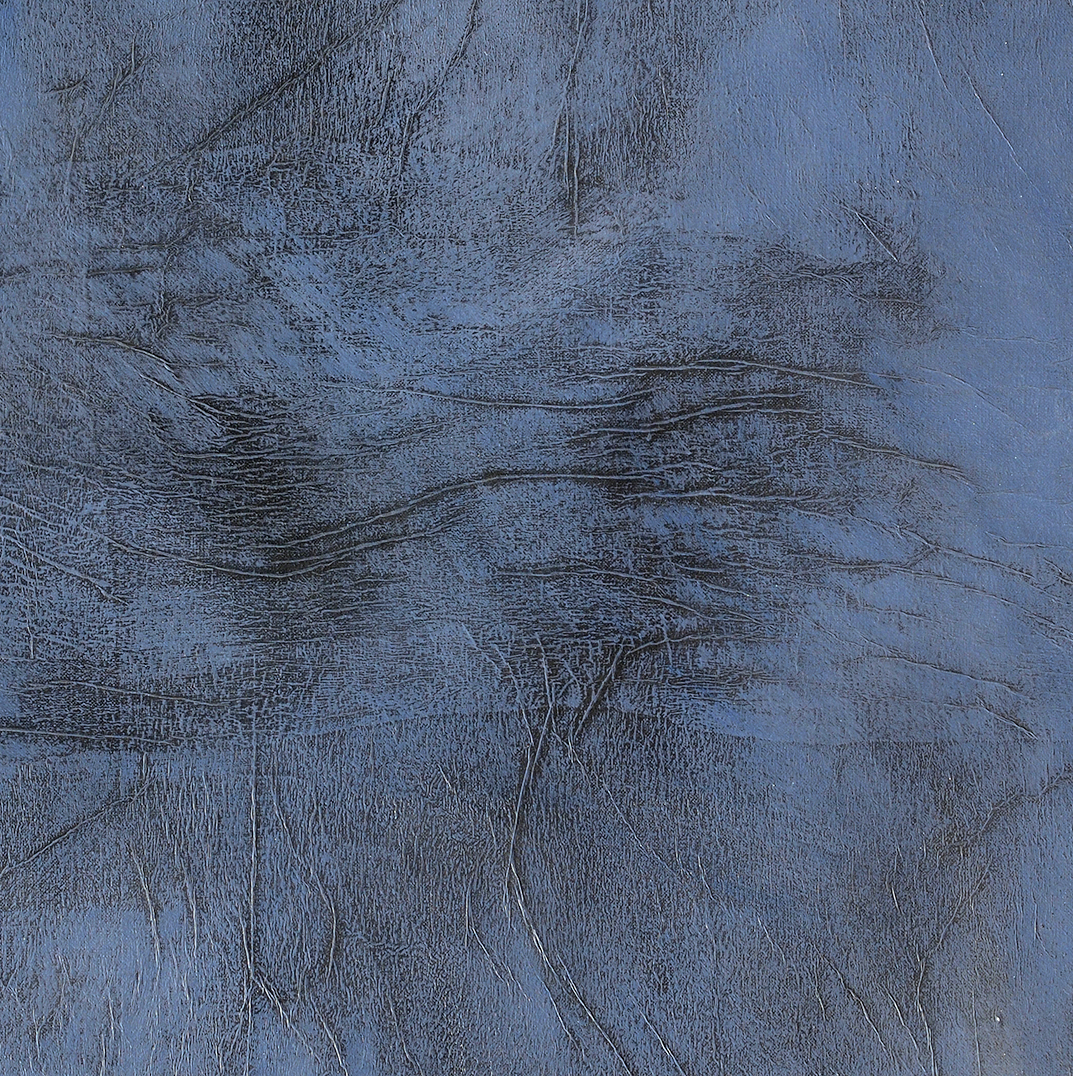 Next the artist applies a border of single 2-4" strips of bright color–typically Old Holland cadmium scarlet or Old Holland Scheveningen Blue–with a palette knife on one or more sides and immediately tips the canvas vertically and pours a mixture of turpentine and painting medium through it to get some of the color selectively to drip across the span of the canvas, often doing so from more than one edge to get a tangled web of drips.



This results in an oil on linen canvas (surfaced with tissue paper and brushed/scraped/poured oil ground) and now the artist is ready to start painting an image on it. She uses primarily Williamsburg oil paints, with some Old Holland, Chauvin, Vasari, and Holbein oil paints rounding out the palette.
Pen & Ink Process:
Each one starts out in a spiral-bound Aquabee sketchbook, either 11″x14″ with 60 pages or 14″17″ with 50 pages. [Figure 1] The paper is 93lb archival acid-free professional quality. Each book is consecutively numbered (i.e. Rhys NOLA Sketchbook #1 was begun in October 2011 and the most recent, #104, in February 2020). The work begins with an H-lead pencil, loosely exploring possible placement of subject on the page, and soon as Rhys is certain of where to begin solid development of the image, TWSBI fountain pens filled with Noodler's ink are utilized soon after.​  [Figure 2]
Sometimes drawings call out for further development still, and sometimes colors are heard in the piece that must be added later on in the artist's art studio where the colors of the ink already on the page blend with the added gouache colors in perfect serendipity.
A recent innovation–starting a few years ago–is the use of two consecutive pages at the same time to produce a double-page drawing.  Rhys's local framer joins the pages together and the artist fills in the missing lines to finalize the image.
Remember always that in homage to their inspiration, Rhys always shares cash commissions to musicians/bands depicted in the art.  Their names are always written as part of the signature, as is the date and the venue.  As such, there is a documentary aspect to this body of work–the capturing of a special time and place.


Sign up for updates, events and discounts: