Emilie Rhys
Emilie Rhys was born in New York City in 1956, the daughter of NYC/NOLA artist Noel Rockmore and Elizabeth Hunter, and the granddaughter of NYC artists Floyd Davis and Gladys Rockmore Davis. She grew up in Portland, Oregon and San Francisco, CA. Ms. Rhys drew pictures from the time she could hold a crayon, and by the age of 14 she had developed a strongly individualistic style evidenced in her first small sustained series of works utilizing rapidograph pens and a pointillist technique to produce drawings of imaginary mystical characters.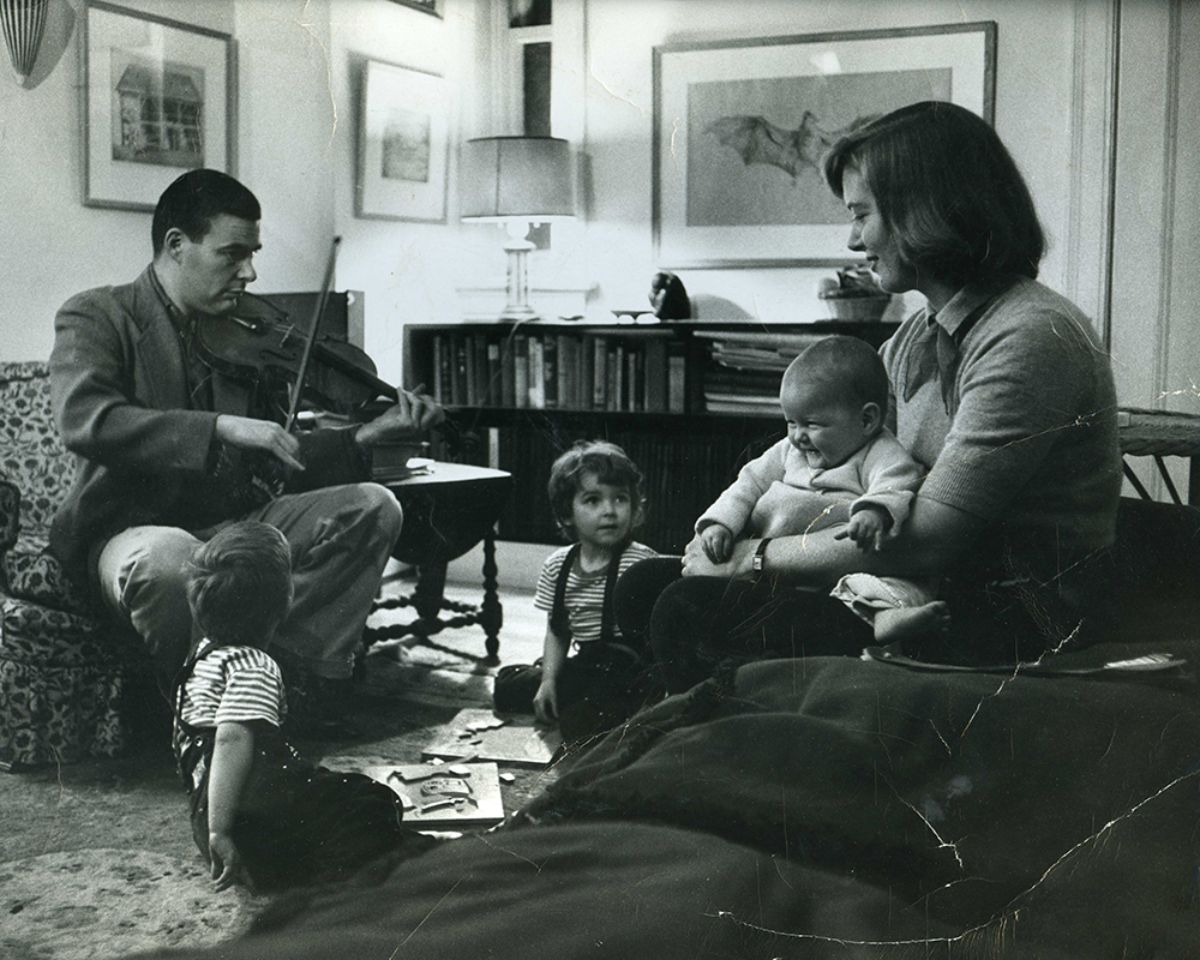 LIFE MAGAZINE
The family at home, Hotel des Artistes, November 1956; baby Emilie Rhys on her mother's lap
In her youth, there was no artistic influence from Ms. Rhys's father or grandparents because she was separated from them as her father left the family when she was under 2 years old; her mother kept none of his artworks nor photos of him, and there was zero contact. Years passed by and instead of art school and without support at home, Ms. Rhys taught herself by studying the masters whom she admired: Giotto, Rembrandt, El Greco, Cezanne, and Picasso among others. Slowly over the years, through trial and error she built a solid base of technical skills.
MUSIC INKED INTO ART: THE BODY OF WORK
All drawings are created from life as the music is being performed in the venues or in the artist's studio, and it is a point of pride that the artist does not utilize photography in creating these images unless some aspect of a commission requires it, i.e. depicting historical subjects.​​ Consequently, Ms. Rhys spends a lot of time in music venues, inspired by the brilliance of the music-makers to consign their image – and the environment in which they work – to art.
Each one starts out in a spiral-bound Aquabee sketchbook, either 11″x14″ with 60 pages or 14″17″ with 50 pages. The paper is 93lb archival acid-free professional quality. Each book is consecutively numbered (i.e. Rhys NOLA Sketchbook #1 was begun in October 2011 and the most recent, #71 in March 2017). The work begins with an H-lead pencil, and fountain pens filled with Noodler's ink are utilized soon after.​
Sometimes drawings call out for further development, and sometimes colors are heard in the piece that must be added later on in the artist's art studio where the colors of the ink already on the page blend with the added gouache colors in perfect serendipity.
Sign up for updates, events and discounts: