emilie rhys
Emilie Rhys was born in New York City in 1956, the daughter of NYC/NOLA artist Noel Rockmore and Elizabeth Hunter, and the granddaughter of NYC artists Floyd Davis and Gladys Rockmore Davis. She grew up in Portland, Oregon and San Francisco, CA. Ms. Rhys drew pictures from the time she could hold a crayon, and by the age of 14 she had developed a strongly individualistic style evidenced in her first small sustained series of works utilizing rapidograph pens and a pointillist technique to produce drawings of imaginary mystical characters.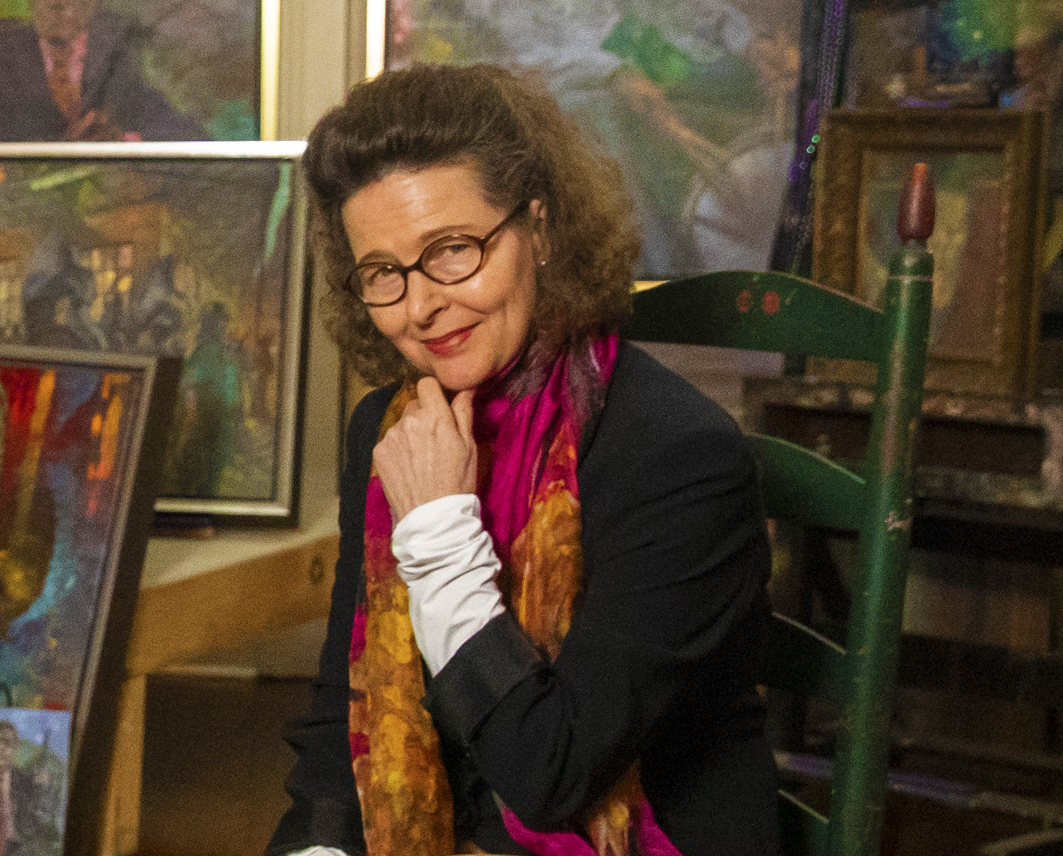 EMILIE RHYS in her Orleans Avenue art studio. December 19, 2019 photo by Sophia Germer, during a photo shoot just prior to delivery of seventeen oil paintings to the New Orleans Jazz Museum for the current exhibition, New Orleans Music Observed: The Art of Noel Rockmore and Emilie Rhys, which opened January 30th 2020 and will be on view till September 1, 2021.
Ms. Rhys lived with her husband John Heller in Santa Fe, NM for 17 years, moving to New Orleans in 2012. Over the course of her 45-year art career, she has produced artworks on paper and canvas that appear in collections around the United States and Europe. Though she did not grow up with her father Noel Rockmore, they shared some artistic proclivities, such as preferring to work with live models and to work from dark to light.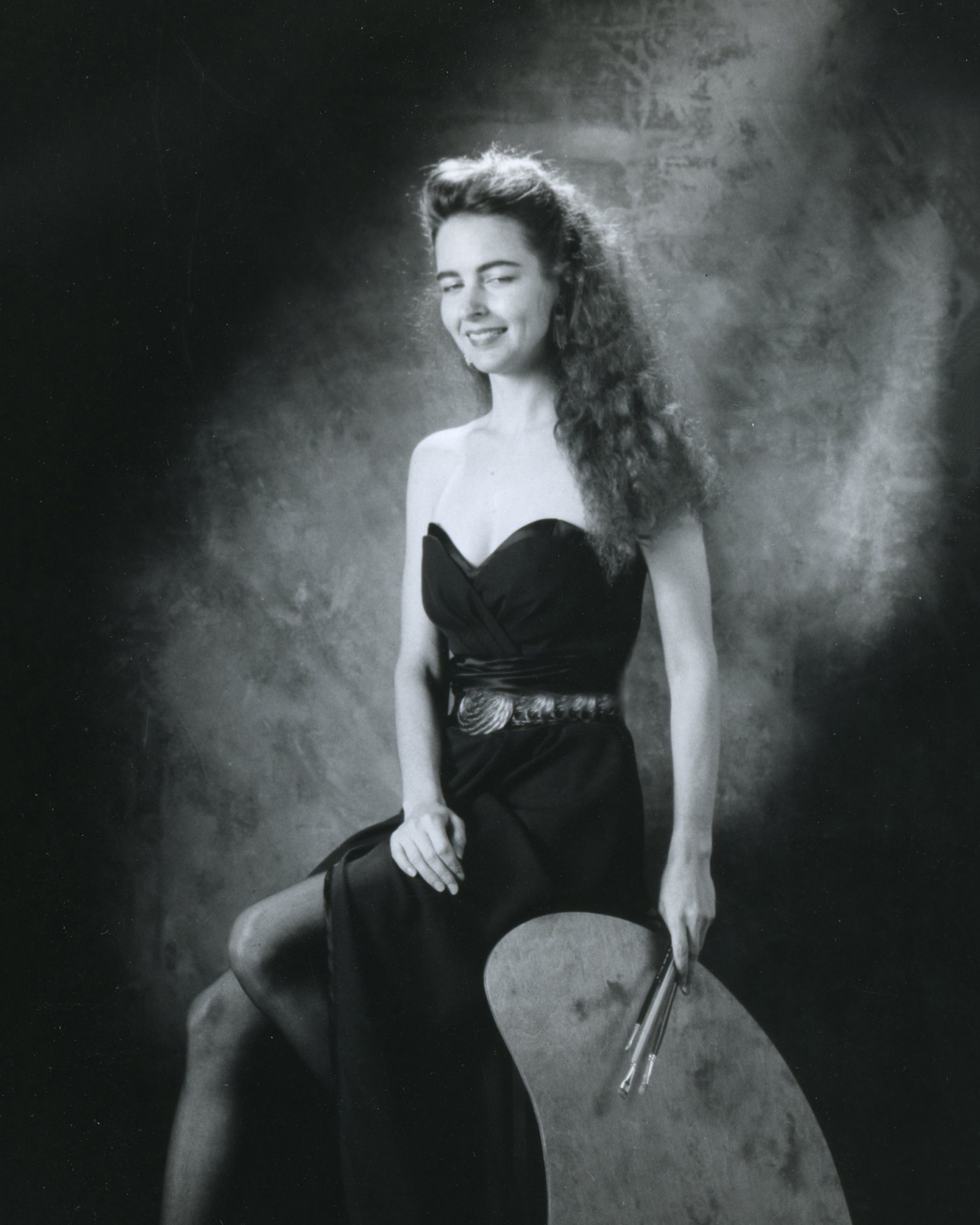 EMILIE RHYS AT AGE 32
A photography studio shot of the artist in New York City in 1988.  Unidentified photographer.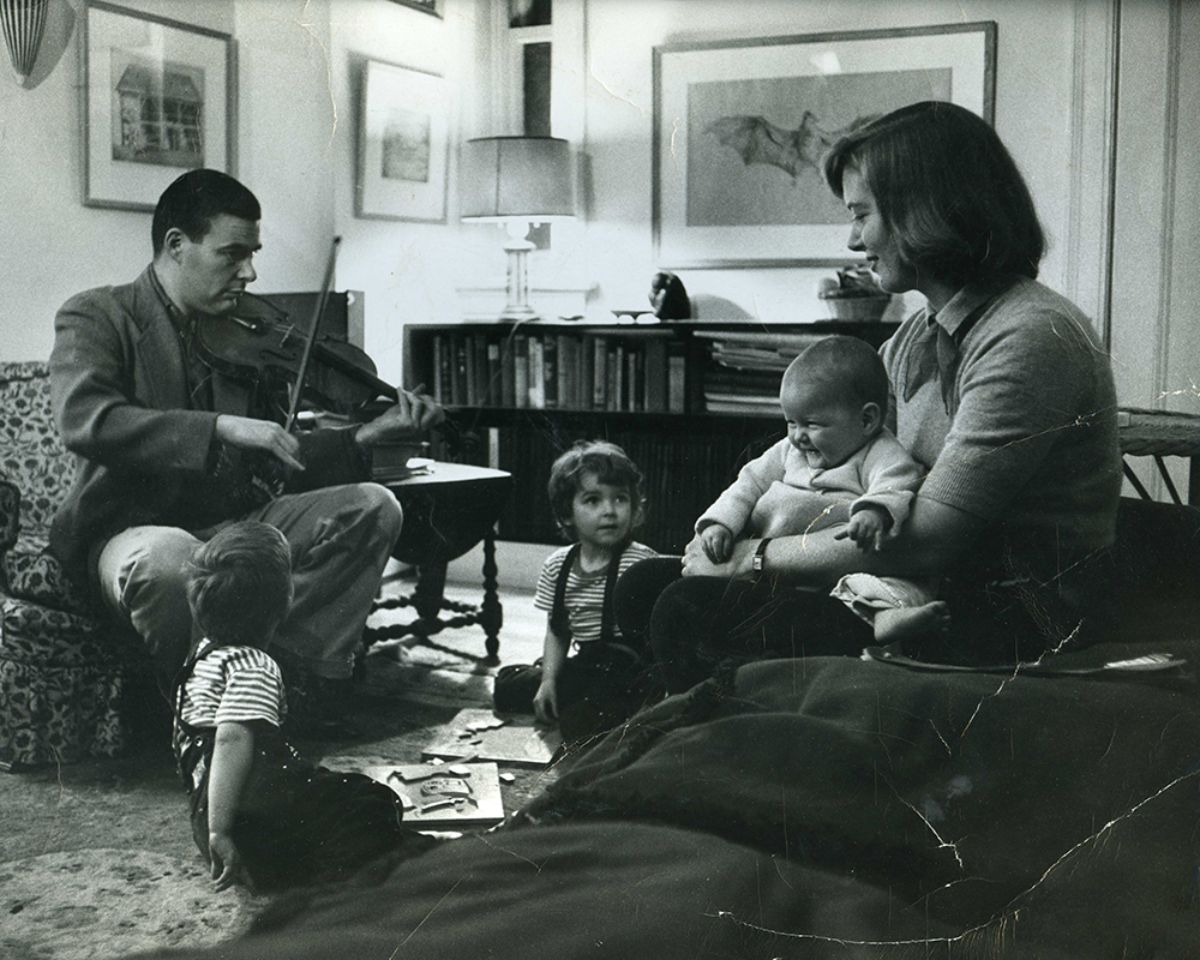 THE DAVISES: LIFE MAGAZINE PHOTO BY ELIOT ELISOFON
The family at home at the Hotel des Artistes,1 West 67th Street, NYC, November 27th,1956:  Noel Davis (later Noel Rockmore) at left playing the violin; son Chris at left on the floor; daughter Robin at right on the floor; and daughter Emilie on her mother Betty's lap. Although this photo did not appear in the magazine, it was one of over 100 taken that day by Mr. Elisofon for a story profiling the young artist Noel Davis that ran in the August 12, 1957 issue.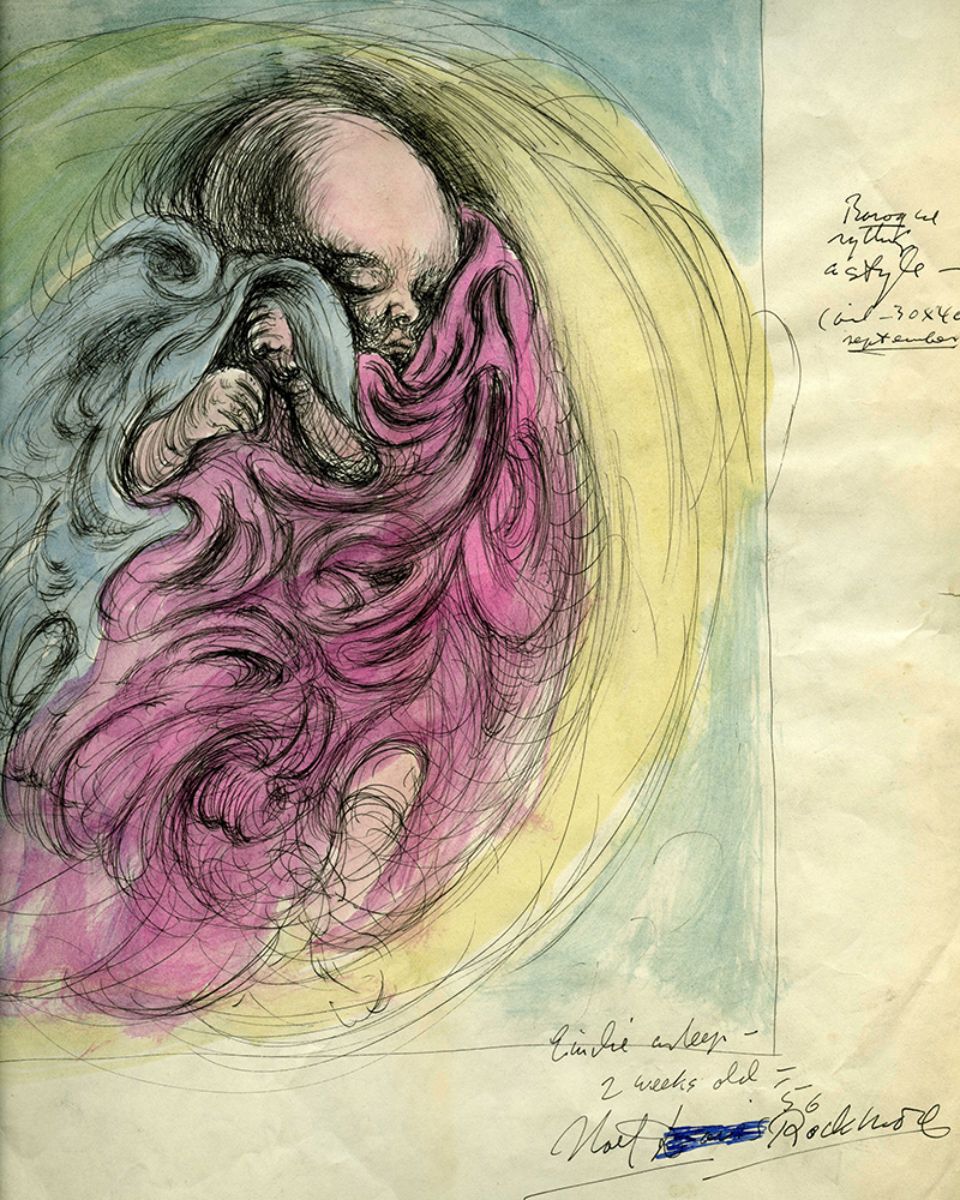 BABY RHYS ASLEEP
At two weeks old, watercolor by her father Noel Rockmore June 1956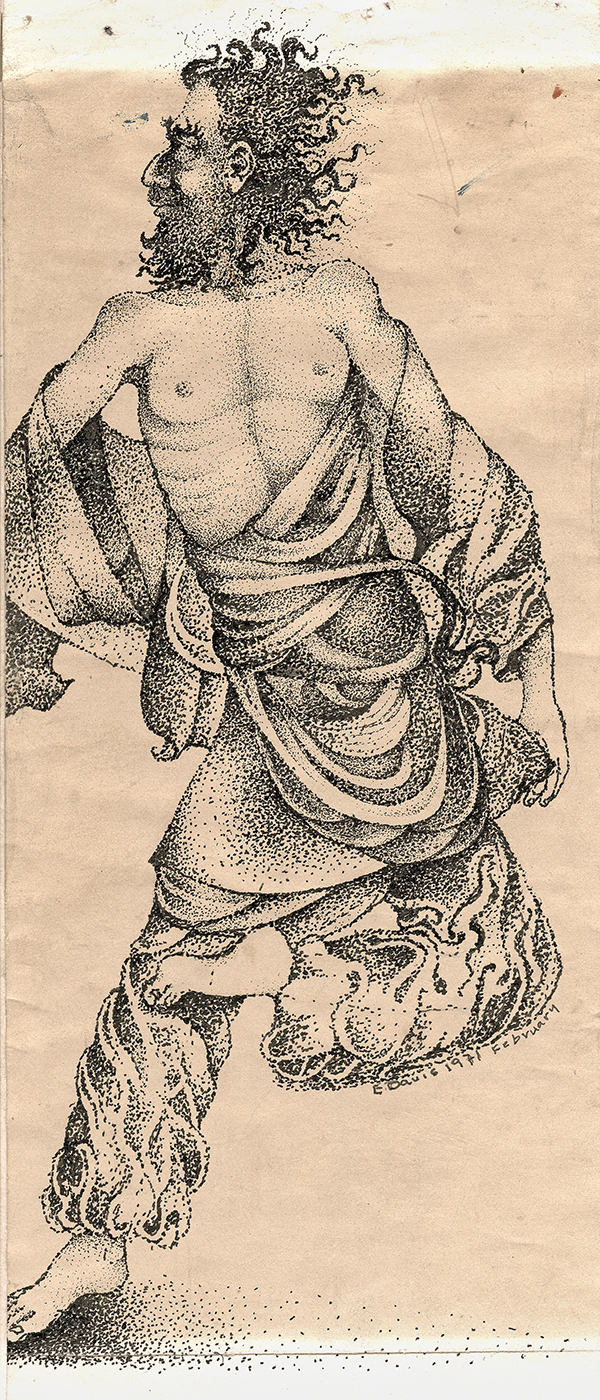 MYSTICAL CHARACTER
Rhys Pointillist Drawing at age 14.
In her youth, there was no artistic influence from Ms. Rhys's father or grandparents because she was separated from them as her father left the family when she was under 2 years old; her mother kept none of his artworks nor photos of him, and there was zero contact. Years passed by and instead of art school and without support at home, Ms. Rhys taught herself by studying the masters whom she admired: Giotto, Rembrandt, El Greco, Cezanne, and Picasso among others. Slowly over the years, through trial and error she built a solid base of technical skills.
She rejoined her father when she was 20 years old and lived with him on Orleans Avenue in the French Quarter for 10 tumultuous months. He put her to work on his mural commissions. She painted a small mural of her own on a third-story courtyard balcony wall in the historic Skyscraper building at St. Peter & Royal.
Ms. Rhys then became a successful Fence Artist in Jackson Square doing pastel portraits and would have stayed in New Orleans had her father been more supportive of her nascent work. But his volcanic fury pushed her away.​ Ms. Rhys moved on, and lived in many places after that, and in 1988 her future husband John Heller took her to Santa Fe, New Mexico. There she was enchanted, as so many artists are, by the light and by the intensity of colors in the terrain and sky which caused a significant shift in her artwork towards brightness and an earth/sky color scheme. The couple moved from New York City to Santa Fe in 1994.
Soon after, at El Farol on Canyon Road, guitarists Carlos Lomas and Bruce Dunlap caught Ms Rhys's eye and her live first drawings of musicians commenced. This activity progressed from there to include other venues and a few other musicians, most notably Bill and Bonnie Hearne and their band at La Fiesta Lounge in La Fonda on the Plaza, and a Russian singer, Olga, accompanying herself on accordion at Cafe Oasis.​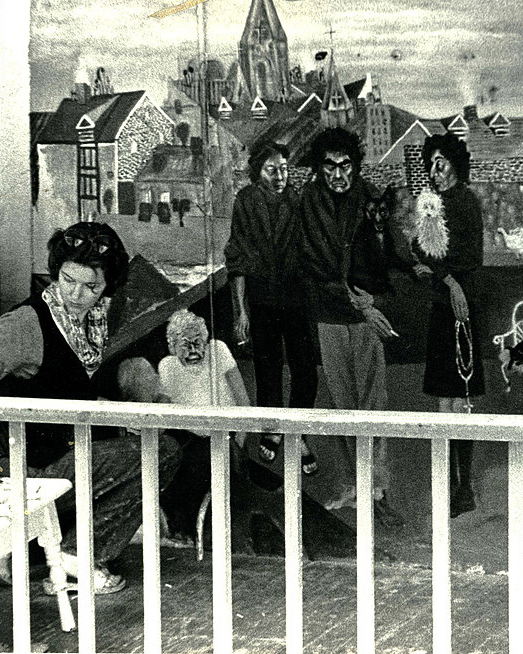 Rhys painting her New Orleans "Skyscraper" mural in 1977, located on a third-floor courtyard facing wall.  Photo by Johnny Donnels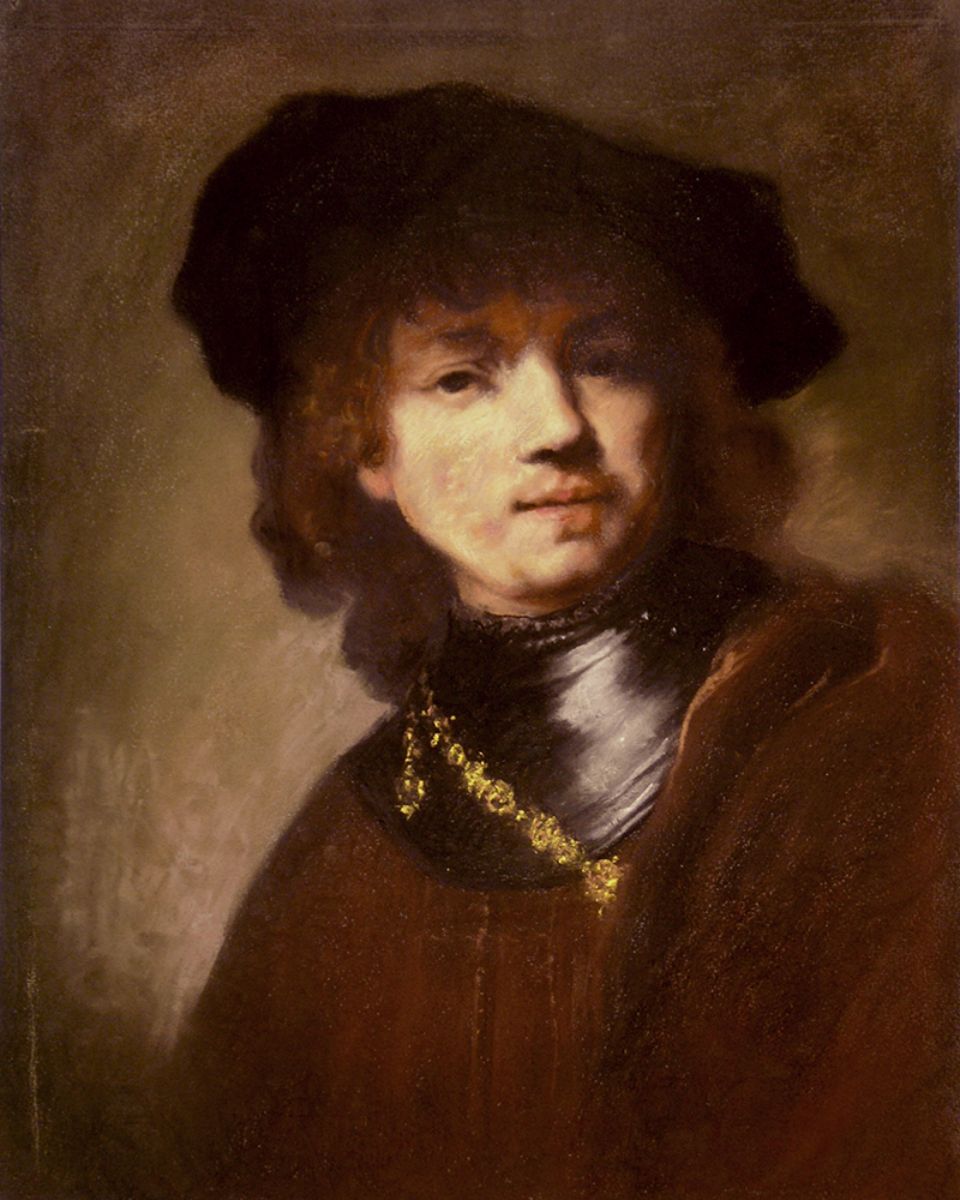 Rembrandt self-portrait, Pastel copy by Emilie Rhys, 1977 on Jackson Square, New Orleans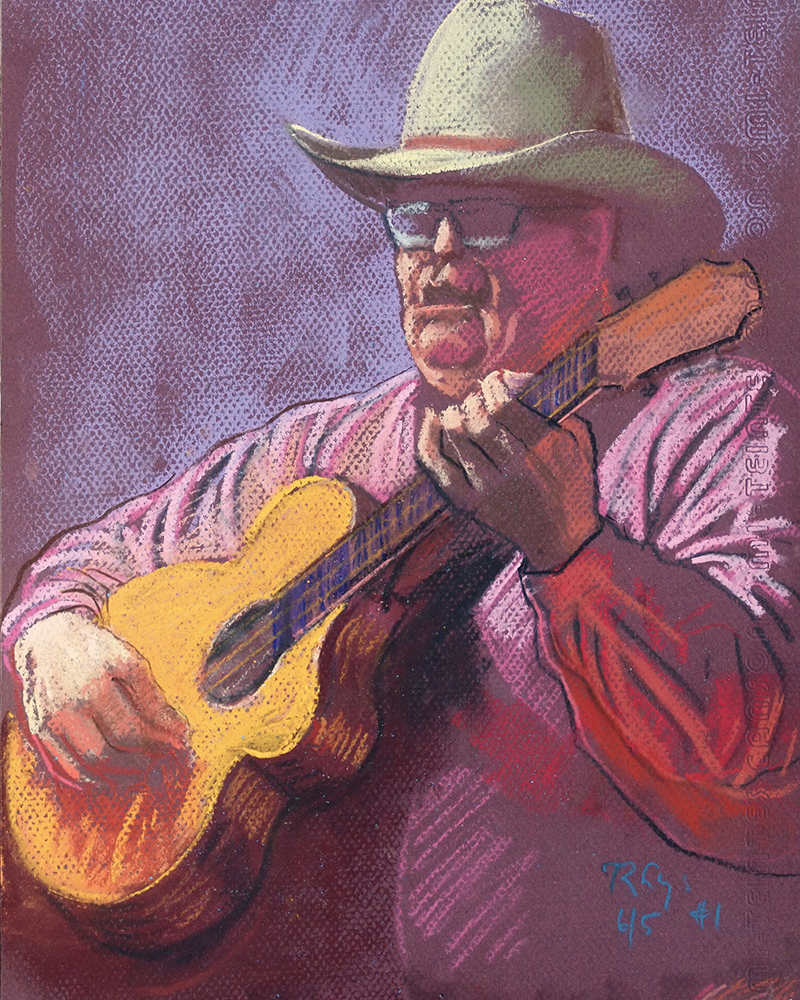 Pastel of Bill Hearne, in performance at La Fiesta Lounge in La Fonda on the Plaza, Santa fe 1997.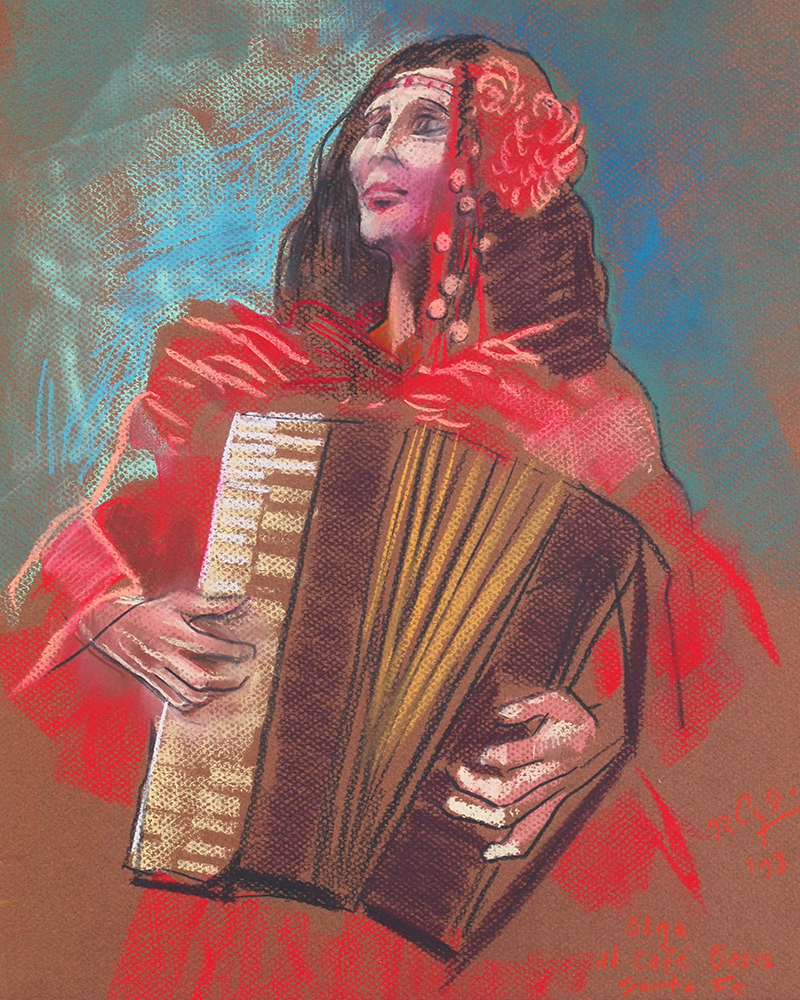 Pastel of Olga on accordion at Café Oasis, Santa Fe 1998
The story of Emilie Rhys' artistic body of work in New Orleans begins on October 24th, 2011 when she arrived back in town after a decades-long haitus and went straight over to Preservation Hall and did something she'd never done before: she started drawing the musicians performing there that night. She had not sat in the Hall since February 1995, for her father Noel Rockmore's memorial service, a week after he passed away.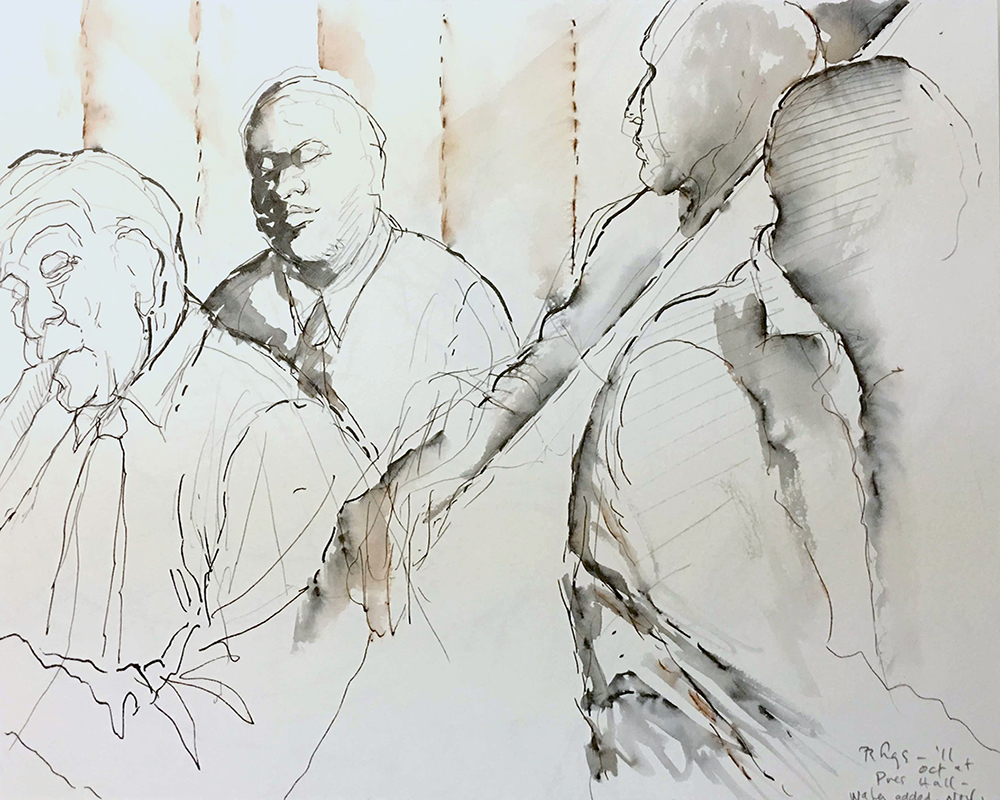 RHYS NOLA SKETCHBOOK#1
Page 19, October 2011. Preservation Hall Jazz Band. This is one of the first drawings in the series now ten years in development.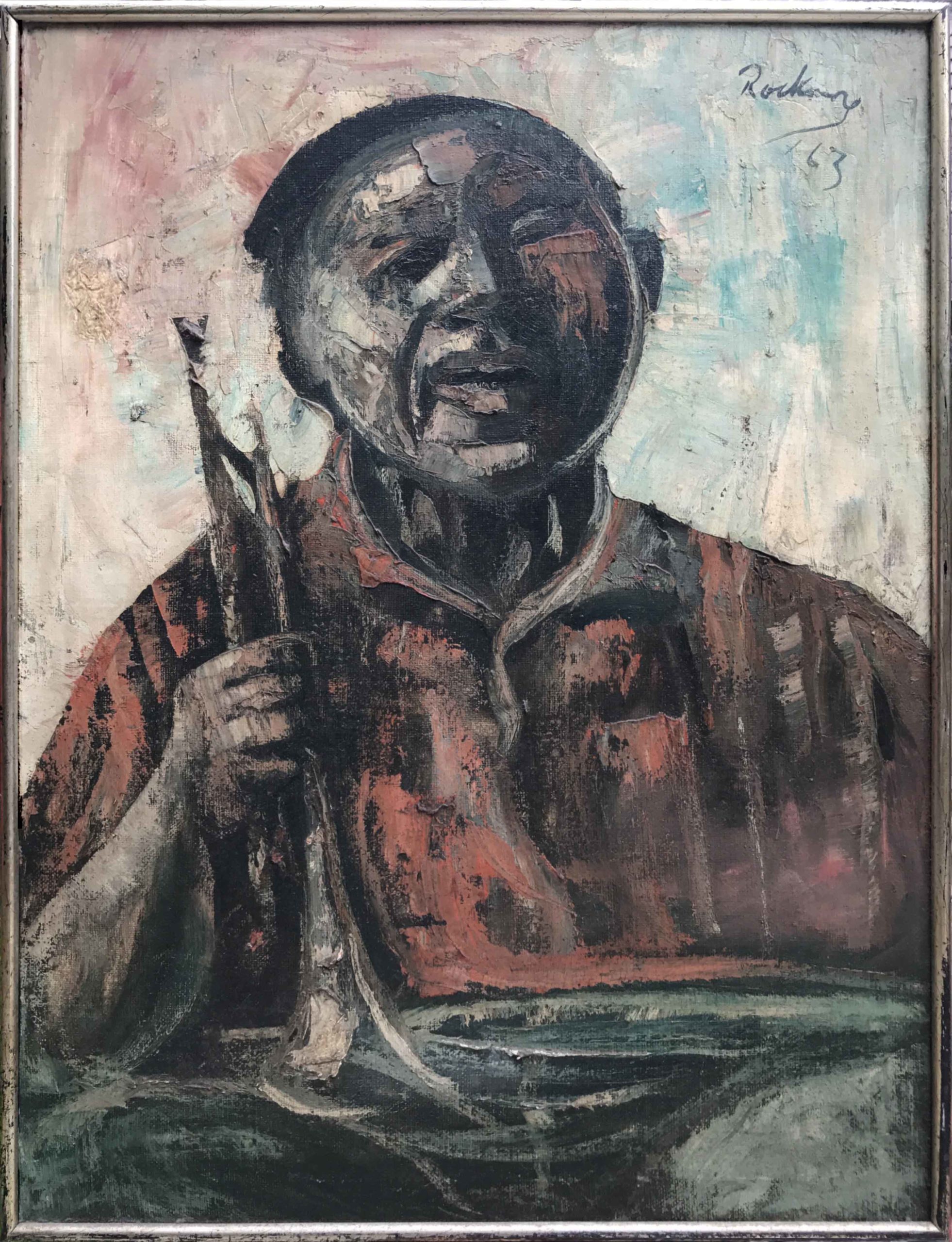 Rockmore oil on canvas of trumpeter Andy Anderson, 1963. This painting is on display at Preservation Hall, behind the bass player.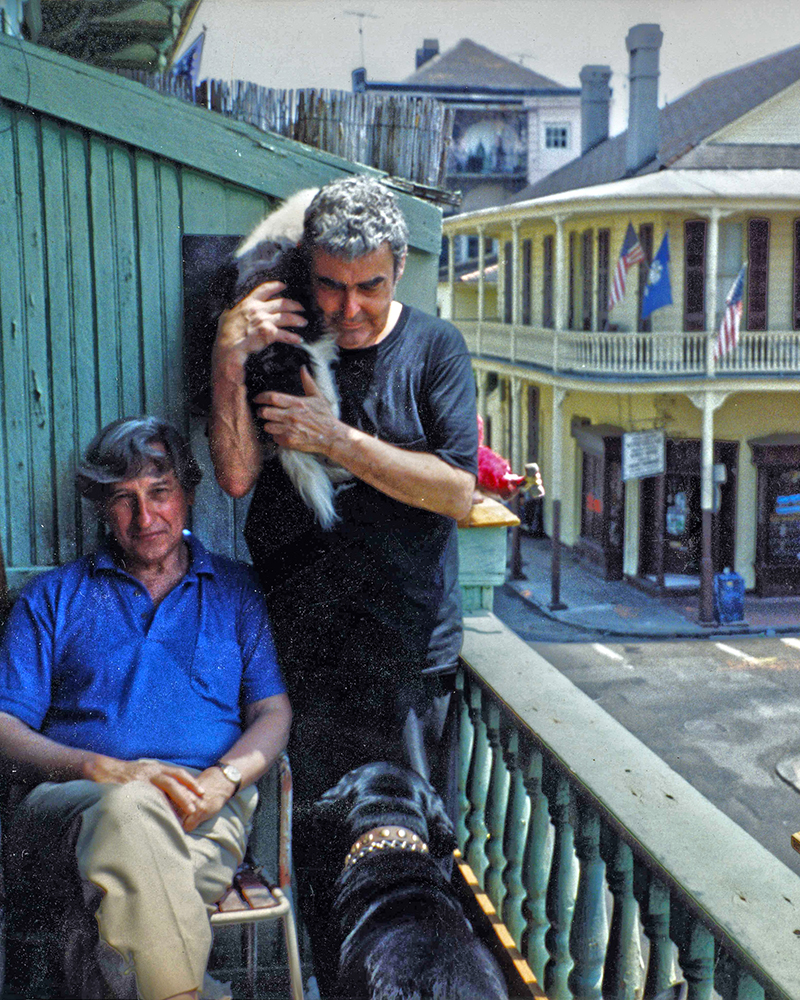 John Heller & Rockmore, Dauphine Street 1991.  Photo by Emilie Rhys
In the 1960's, Rockmore painted Jazz musicians at Preservation Hall. His French Quarter art dealer Larry Borenstein encouraged him to paint during nightly performances and during the day paid him to create a series of life-sized oil portraits of people like Billie and DeDe Pierce, Kid Thomas Valentine, Louis Nelson, Chicken Henry and many others who were performing regularly at the new venue, Preservation Hall, which had been "Mr. Larry's Art Gallery" before he and others converted it into the hallowed hall we today know and love.​
Some of those canvases grace the walls of the performance space to this day, and this is what makes it particularly special for Ms. Rhys to draw there with the spirits of her father and the old musicians looking down on her as new generations of musicians perform the music, and she creates new artworks of them in action.​
A friend, Rita Posselt, took Ms. Rhys to Palm Court and to Frenchmen Street soon after that first week back in New Orleans, and things started happening which gave Ms. Rhys the idea that there was possibly a future for her here. People took notice of what she was drawing and though it took months for her drawing confidence to return fully, by January 6, 2012, Ms. Rhys had finally created a break-out piece, a drawing of the Washboard Chaz Blues Trio at the Spotted Cat.
The drawing style evolved over time, as did Ms Rhys's experimentation with different fountain pens and water media, and by the summer of 2014 the style had settled into the mature signature characteristics still consistently evident to this day, and as of October 2020, the New Orleans Sketchbooks are legion, numbering 104 and counting.
MUSIC INKED INTO ART: THE BODY OF WORK
By necessity, Ms. Rhys uses pen & ink on paper to create her live-action work in music venues and music festivals. The portability of sketchbooks are ideally suited to the task at hand.
All drawings are created from life as the music is being performed in the venues, festivals, or in the artist's studio, and it is a point of pride to the artist that she does not utilize photography in creating these images unless some aspect of a commission requires it, i.e. depicting historical subjects.​​
Consequently, Ms. Rhys spends a lot of time in music venues, inspired by the brilliance of the music-makers to consign their image – and the environment in which they work – to art.
The driving force of it all is the music, and the "look of music", i.e. the musicians, the venues, the instruments, the audience. All of this appears in this artist's work.
What more heavenly toil could there be than to translate one art form into another? That is what Ms. Rhys does. The rhythm of the music makes its way onto the page. The unique posture that each musician has with their instrument is noted by Rhys. 
Their names are always written as part of the signature, as is the date and the venue.  As such, there is a documentary aspect to this body of work — the capturing of a special time and place.
And, in homage to their inspiration, she always remembers the musicians when artworks in which they are depicted are sold, in the form of cash commissions.
Each one starts out in a spiral-bound Aquabee sketchbook, either 11″x14″ with 60 pages or 14″ x 17″ with 50 pages. The paper is 93lb archival acid-free professional quality. Each book is consecutively numbered (i.e. Rhys NOLA Sketchbook #1 was begun in October 2011 and the most recent, #104, in February 2020).  
                                                                                                                                       EMILIE RHYS drawing fellow artist TOO LOOSE
                                                                                                                 Spotted Cat Music Club, November 16th 2011.  Photo by Rita Posselt
The work begins with an H-lead pencil, loosely exploring possible placement of subject on the page, and soon as Rhys is certain of where to begin solid development of the image, TWSBI fountain pens filled with Noodler's ink — walnut brown and navy blue (looks more like teal) are utilized soon after.​
Sometimes drawings call out for further development still, and sometimes colors are heard in the piece that must be added later on in the artist's art studio where the colors of the ink already on the page blend with the added gouache colors in perfect serendipity.
When a book is filled front to back with images, the spiral binding is removed and each page is professionally scanned and all details about each image are entered into our extensive database; then the pages are placed in presentation portfolios to protect them while they await perusal and eventual sale.
We invite you to pay us a visit in person at the gallery and flip through some of the books – an interesting random way to explore the music world of New Orleans, seen through the eyes of Rhys. Most drawings are sold unframed, packed in a Clear-Bag envelope with a stiff acid-free backing board, but a few are available framed by the artist and are on view at the gallery.
A recent innovation — starting a few years ago — is the use of two consecutive pages at the same time to produce a double-page drawing.  Rhys's local framer joins the pages together and the artist fills in the missing lines to finalize the image. In this way she now is filling sheets as large as 24″ x 36″!
Those require the use of a drafting table, which the artist has done numerous times in the courtyard of the art gallery at 708 Toulouse, hiring musicians to fill the air with music and provide her with visuals.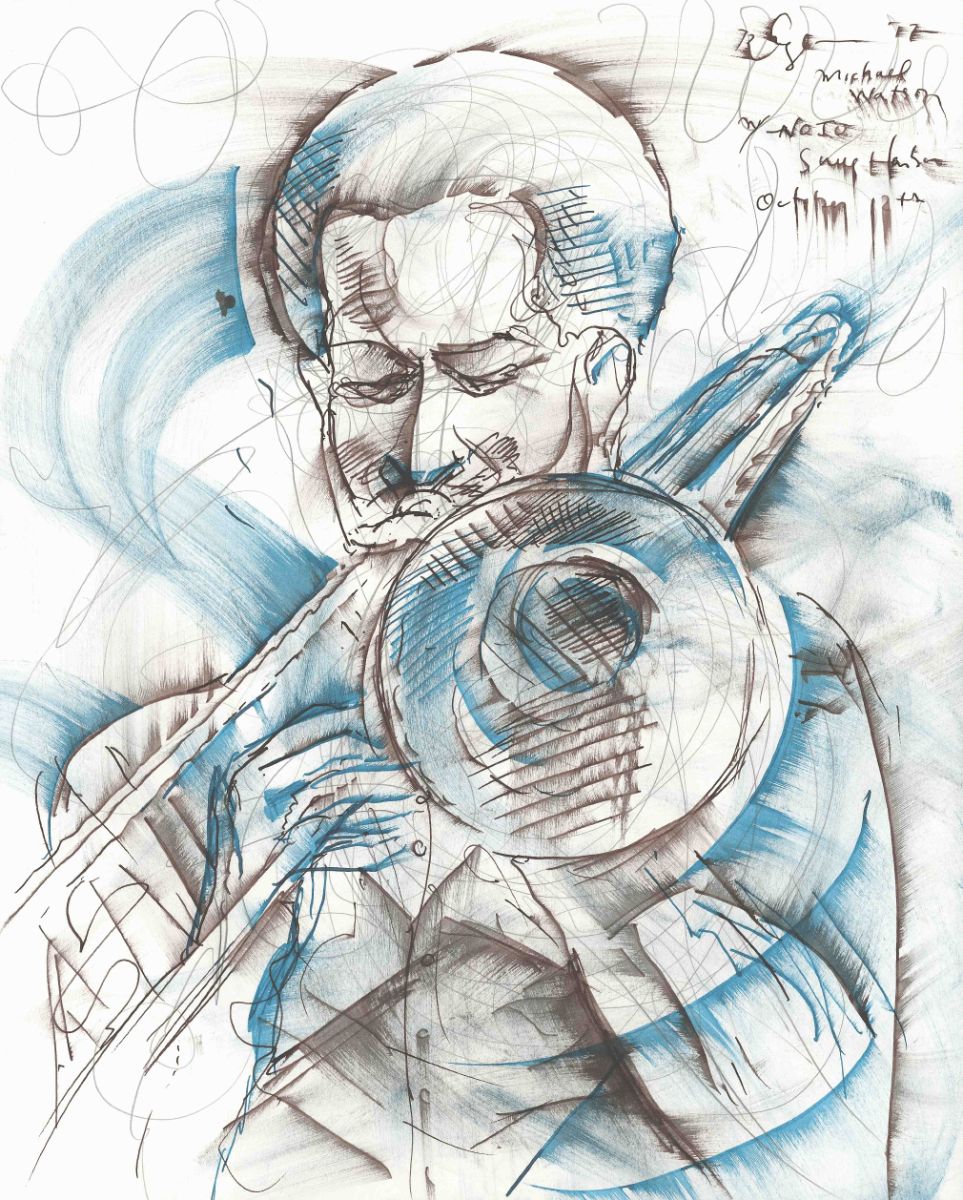 Michael Watson at Snug Harbor 2017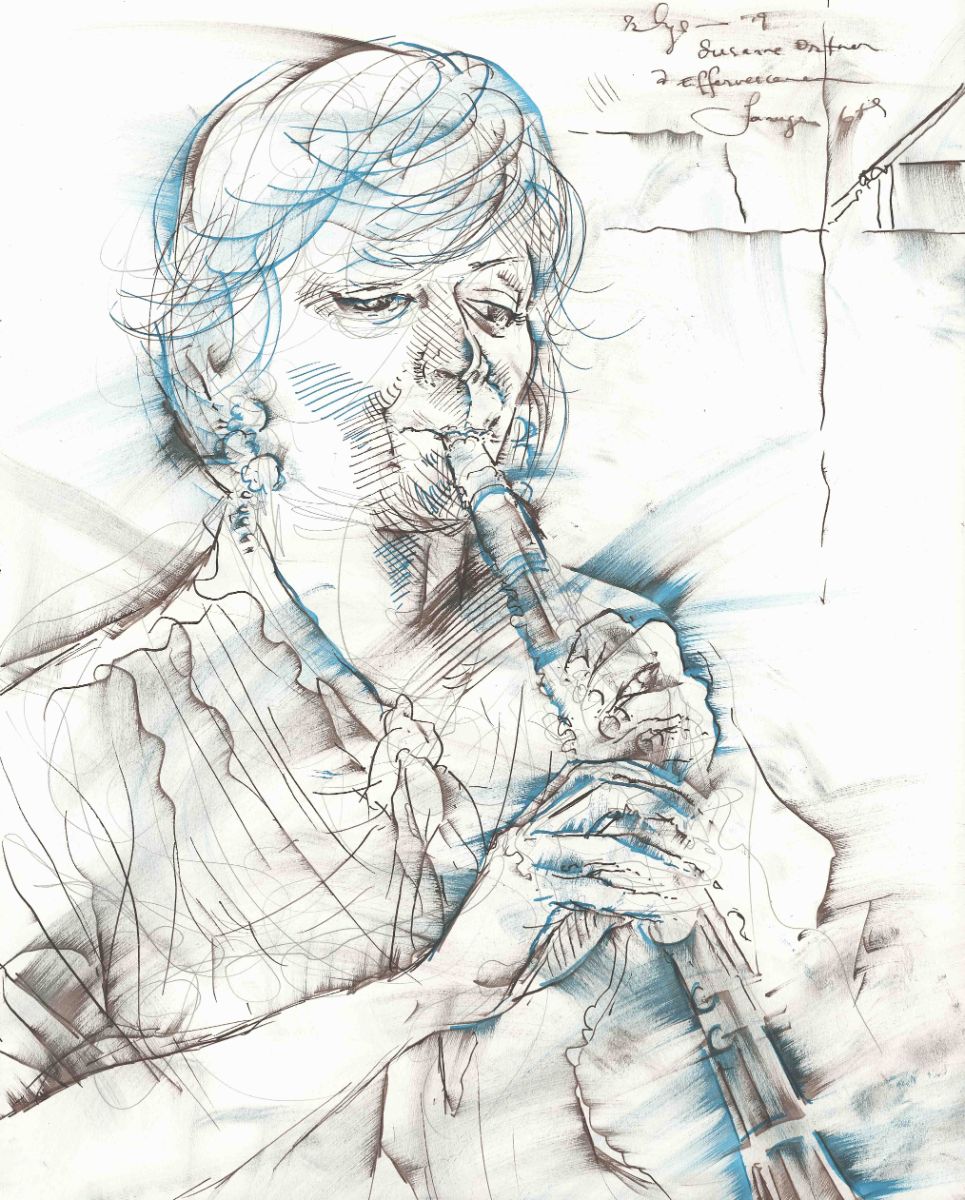 Susanne Ortner at Effervescence 2019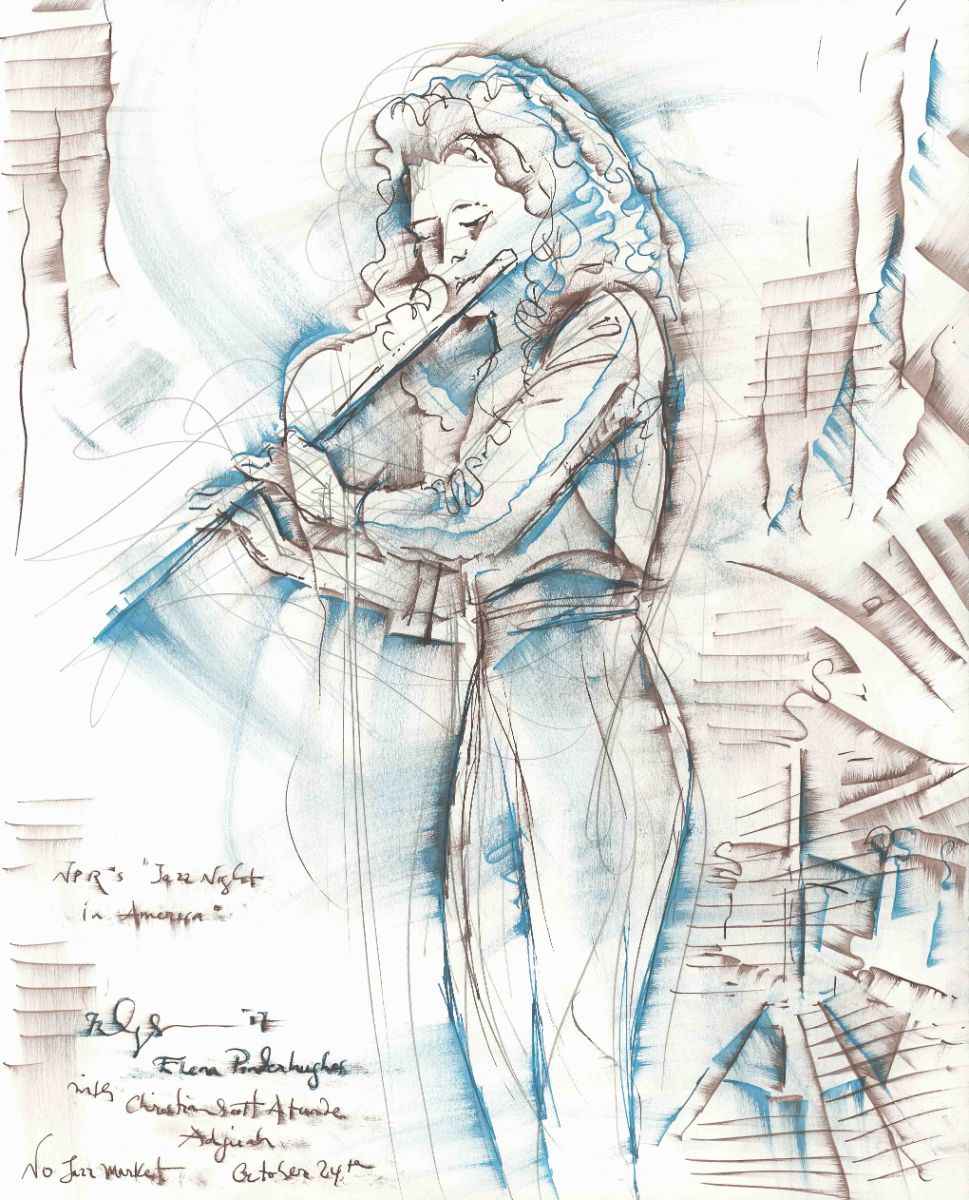 Elena Pinderhughes, Jazz Market 2017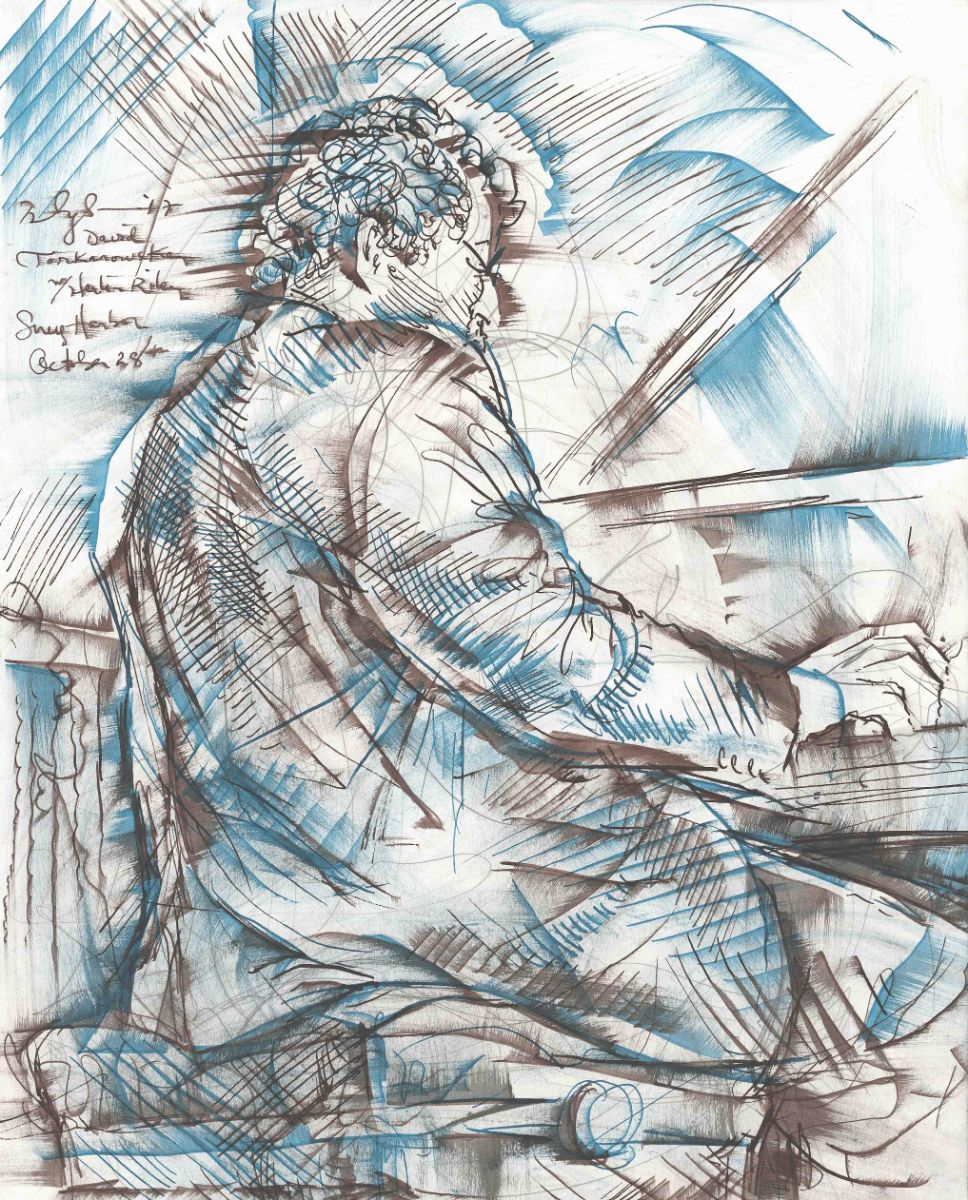 David Torkanowski at Snug Harbor 2017
All four time-lapse videos were filmed one winter afternoon in 2018, showing Ms. Rhys's hand creating an 18″ x 24″ drawing of a jazz quartet performing live in the gallery courtyard. From left to right are George Aschmann on fiddle, Greg Sherman on guitar, Norbert Susemihl on trumpet and James Evans on Clarinet.
Sign up for updates, events and discounts: