Rhys drawings and paintings are available for CD covers, posters and other promotional materials. Please reach out for more information if you're a musician or producer. For any other uses of Rhys' images, requests for permission may be made via web form or email as well.
Welcome to the unique view of New Orleans music as seen through the eyes of local artist Emilie Rhys whose fine-art pen and ink drawings, created during live performances in the city's famous clubs and festivals, capture the energy, intensity, color and movement so vividly that you can hear the music in the artwork.​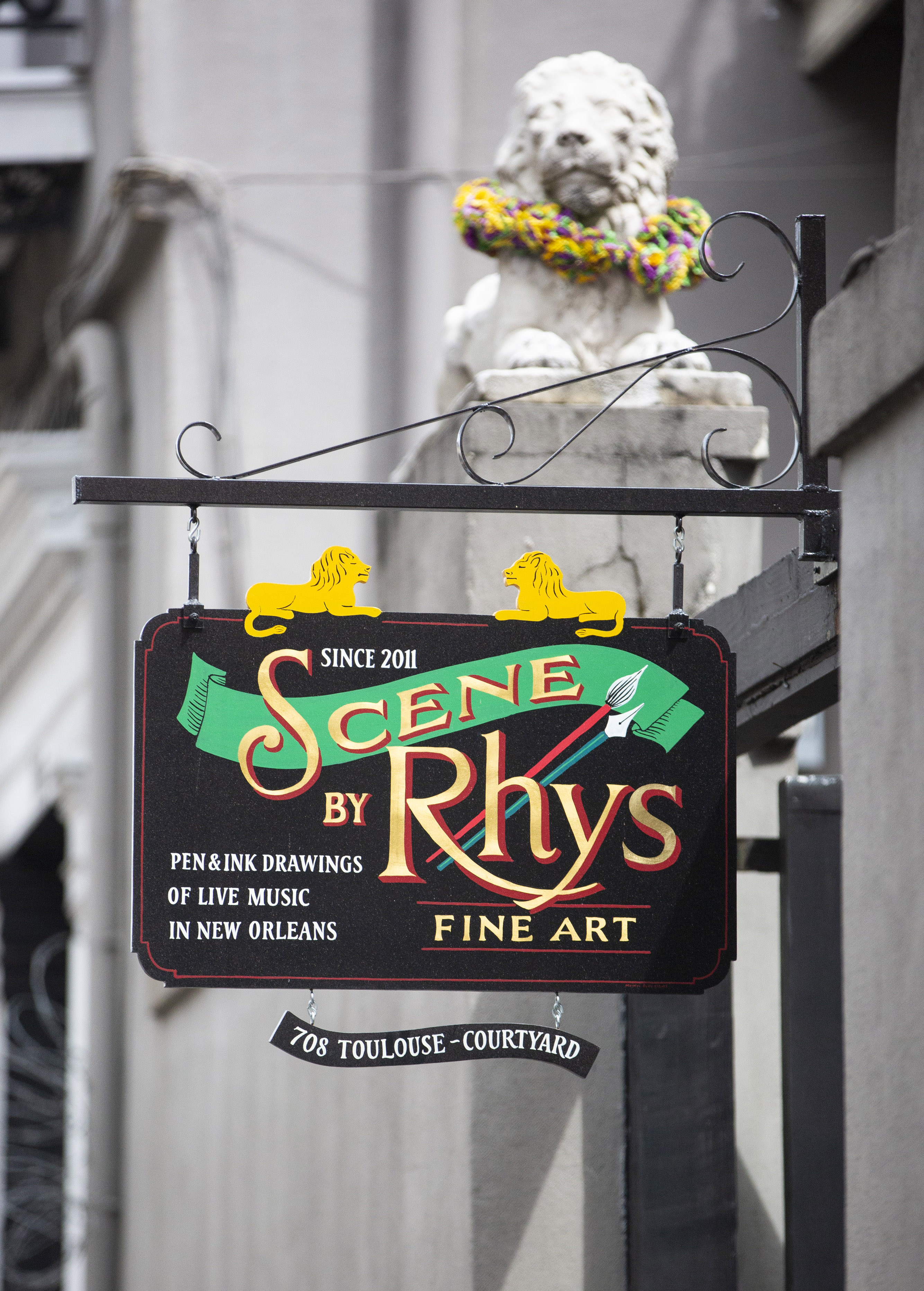 708 TOULOUSE • COURTYARD ENTRANCE
708 Toulouse Street | Courtyard Entrance
Browse the shop in person at the Scene By Rhys Fine Art located in the heart of the French Quarter (open Thursday through Monday from 10:00 am to 6:00 pm) or shop online 24/7.
Most works are unframed, but we offer extensive framing options. Shipping is available throughout North America.
A father/daughter exhibition called
New Orleans Music Observed: The Art of Noel Rockmore and Emilie Rhys will open at the New Orleans Jazz Museum on January 30th 2020. The reception will be free and open to the public, from 6:00pm to 8:00pm.
This exhibit will explore music in New Orleans as seen through the artistic eye of Mr. Rockmore in the 1960s and 1970s, and Ms. Rhys in the past decade. This will be the first time their artworks will be on display together in a museum.
Read the press release here.
A 3rd generation artist whose art career spans over 40 years, Emilie Rhys has since October 24, 2011 been prolifically producing original artworks of musicians during live performances around New Orleans. Pen & ink on paper is her preferred live action medium.
To promote this work, in December 2015 she launched SceneByRhys.com, and then a year later Ms. Rhys opened the brick & mortar storefront Scene By Rhys Fine Art, located in a historic 1798 French Quarter building on Toulouse, entered through a large courtyard guarded by two stone lions high up on the street wall.​
708 Toulouse Street | Courtyard Entrance
Between Bourbon and Royal Street in the historic French Quarter, Scene By Rhys Fine Art sits snug in the courtyard at 708 Toulouse.
Pay us a visit in person and spend a moment to flip through some of the sketchbooks, a unique view of the local music scene, as seen by Rhys (hence our name!).
Open: 10:00 am to 6:00 pm​ • Thursday-Monday